upcoming events
Golf Tournament/Fundraiser
2024 Date TBD
The Renaissance, Haverhill, MA
Monday, August 12, 2024
Shotgun Start ~ Dinner & Awards
---
Merrimac Heights Academy is a non-profit school that provides special education to students between 11-22 who have complex language, learning, social, and cognitive disabilities and have learning profiles that make traditional educational settings incredibly challenging. At MHA we help our students maximize their potential, earn their high school diploma, and learn to live independent and productive lives. Just as importantly, students develop meaningful friendships – some for the first time – and join a community in which they belong. Our students come from various school districts throughout Eastern MA and Southern NH.

The Renaissance is an 18-hole Brian Silva Signature Course renowned for its classic design. The course is impeccably maintained, and the event promises to be a day bursting with fun for all participants. The website is https://renaissancema.com/golf/the-course/
2023-24 Brochure is now Available!
Phone: (978) 384-8290 or
email: [email protected]
TITLE SPONSORSHIP $10,000 (1 Available)
Golf for twelve (12) in the tournament

Choice of starting position

Company name and logo on all publicity materials

Banner signage at the event

One tee-box sign

Company recognition during dinner


Dinner for 12
DINNER SPONSORS $5,000 (3 Available)
Golf for four (4) in the tournament

Company name and logo on all publicity materials

Company banner and/or logo displayed at the tournament

One tee-box sign

Company recognition at dinner

Dinner for 4
GOLF CART SPONSORS $3,500 (2 Available)
Golf for four (4) in the tournament

Company name and logo on all publicity materials

Company recognition during dinner

Signage on all golf carts

Dinner for 4
BEVERAGE CART SPONSOR $2,500 (2 Available)
Golf for two (2) in the tournament

Company name and logo on all publicity materials

Company recognition during dinner

Banner signage on beverage carts

Dinner for 2
TEE-BOX SPONSORS $350 (16 Available)
Company name and logo at designated tee-box
REGISTRATIONS & PAYMENT INFORMATION

TEAM REGISTRATION $800
Includes a four-person team with dinner included
INDIVIDUAL REGISTRATION $225
Only register here if you are not part of a team

Includes a round of golf and dinner for one person
PAYMENT METHODS:
Pay for your sponsorship or registration using Paypal (this method also allows for the use of a credit card). Simply click the donation button at the top of this page and complete the following:

Enter the amount of your sponsorship or registration fee

In the Special Instructions section, note your sponsorship level or registration type

Enter your payment and contact information

Submit payment



When your payment is processed, you will receive an email confirmation from Paypal and we will reach out to you to confirm your sponsorship/registration.
Pay for your sponsorship by Check (Preferred Method) Once your check is received, we will reach out to you to confirm your sponsorship/registration. Please make checks payable to Merrimac Heights Academy, noting your sponsorship level and mail to:

Merrimac Heights Academy
102 West Main Street
Merrimac, MA 01960

For more information, or if assistance is needed in processing your sponsorship, please contact Debbie Soehner @ [email protected] or (978) 384-8290

---
Thank You For Your Support to MHA!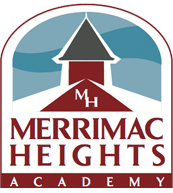 MHA 10th Year Celebration Gala
Friday, May 17, 2024
Merrimac Heights Academy 10th Year Celebration Gala
Merrimac Heights Academy will be celebrating 10 years of progress!
Sponsorship Opportunities are available ~ Call 978-374-8290 for additional information.
MHA Trunk or Treat
Monday, October 30, 2024 from 5:30 to 7:00 pm
Trunk-or-Treat at Merrimac Heights Academy!



Do you love Halloween!? We take pride in making a difference in our community and involving our students in activities to boost self-confidence, self-esteem, deal with challenges, communicate with different people and build up their life skills in a supportive environment to make a positive impact in the community. If yes, we would love to have you and your child host your vehicle at our Trunk or Treat Event! The event will take place on Monday, October 30 from 5:30 to 7:00 pm in the Merrimac Heights Academy Parking Lot.
One vehicle (any type of vehicle will work)
Decorations and fun themes (please do not use decorations containing gore, violence or any other displays that could be inappropriate for children) This is a family friendly event.
Please plan on bringing enough sealed candy, treats and/or goodies for up to 100 children (attendance may vary??)
Please plan on arriving anytime between 3:30 t0 5:15 for set up.
We would like all trunks to be set up by 5:30. Event will promptly begin at 5:30 pm.
Family friendly costumes are highly recommended and encouraged!
Your children will also have a chance to "trunk or treat" this night!
We welcome and encourage MHA parents and their children, families and friends of MHA families, MHA staff and their families, etc. to join this event!